December 6th, 2023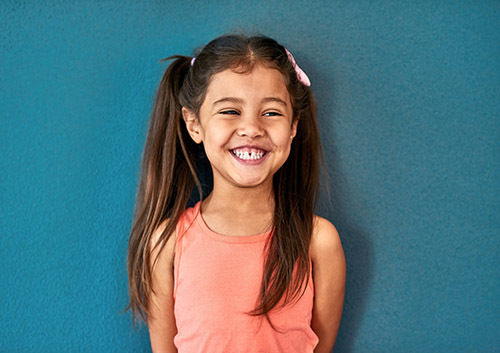 Having your teeth cleaned is part of most dental checkups. It's a great feeling to know your teeth look clean and bright, but there's more to feel great about! Cleanings help your teeth stay healthy. Let's talk about why a cleaning at our Richmond Hill, ON pediatric dental office is a bright idea.
Brushing and Flossing at Home Isn't Always Enough
Even when you brush and floss every day, sometimes you don't get rid of all the plaque sticking to your teeth. Plaque, after all, starts forming within hours after you brush, and this can be a problem.
Plaque is a sticky film that's mostly made up of bacteria. These tiny germs use food we eat to make acids, and these acids can make our tooth enamel weaker. Over time, a weak spot in tooth enamel gets bigger and deeper until it becomes—a cavity.
And that's not all. Plaque near our gums irritates them, and our gum tissue reacts to this irritation. Our gums might turn darker pink, or bleed, or get puffy. We could have bad breath that brushing won't get rid of. These are signs of gum disease. Clearly, we don't want plaque sticking around!
Especially because, after only a day or two of letting plaque build up, it starts to turn into tartar. Tartar is hardened plaque, and it can't be brushed away at home. Tartar can only be removed by an expert at Smiles on Yonge.
It can build up anywhere we might not be brushing as often and as well as we should—especially behind our teeth and between them. Tartar can build up above and below the gum line, where it causes even more gum irritation.
You want your teeth to have the best protection against cavities and gum disease, and that means making sure that plaque and tartar aren't making themselves at home on your teeth. And that means a visit to your pediatric dentist's office for an expert cleaning.
What goes on during a cleaning?
First, a Look at Your Teeth and Gums
Once you're settled in the comfortable dental chair, Drs.Rashed and Raziee will examine your teeth and gums to see if they need any attention before starting the cleaning.
Your hygienist usually begins by carefully scraping away any plaque and tartar with tools called scalers. Scalers can be hand tools or use ultrasonic vibration. Your hygienist will also clean the area around your gums, gently getting rid of any plaque and tartar on your tooth enamel above and below the gum line.
If you've been missing any spots in your daily brushing, your hygienist will point out these out so you can brush better.
Sometimes your teeth might be polished to take away stains on the tooth surfaces. This can be done with a special toothpaste applied with a spinning brush or rounded cup. Or your hygienist might use an air polisher, which uses powder, water, and air to clean teeth. Often, scaling on its own will remove any small stains.
Sometimes even adults have a hard time flossing the right way! But it's a skill you should learn because it's really important for healthy teeth and gums. Brushes can't get in the tight spaces between our teeth—but plaque can. Flossing fits in between those tiny spaces to gently scrape away plaque as you move the floss up and down.
Your hygienist will floss between your teeth to remove any plaque, and can show you the right way to floss your teeth and the best kind of floss to use.
After cleaning your teeth, your hygienist will make sure you rinse well for a shining smile. And that's it!
Your teeth will look and feel cleaner once any harmful plaque and tartar are gone. You'll find out if you've been missing any areas when you brush. You'll learn the right way to brush and floss for healthy teeth and gums. And you'll be helping to prevent cavities and gum disease! No wonder a cleaning at your dentist's office is always a bright idea.